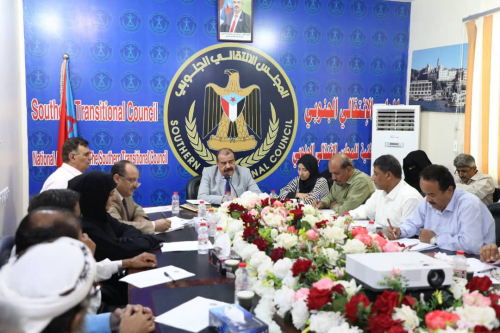 The Administrative Board of the National Assembly of the Southern Transitional Council, on Tuesday, held its periodic meeting, headed by Major General Ahmed Saeed bin Brik, the Chairman of the National Assembly, and in the presence of his two deputies, lawyer Niran Sooki, member of the Presidency of the Council, and Dr. Anis Luqman.
At the beginning of the meeting, the administrative body stood for a minute to recite Surat Al-Fatihah for the souls of the martyrs of the terrorist bombing that targeted the convoy of Mr. Ahmed Hamed Lamlas, Secretary-General of the Presidency of the Council, Governor of the capital, Aden, and Major General Salem Al-Socotri, Deputy Secretary-General, Minister of Agriculture and fisheries.
The meeting then reviewed the accelerating events on the scene in the south in general and the capital, Aden, in particular, and the systematic targeting of it by the enemies of the south.
The administrative body drew attention to the bloody events in Crater and the terrorist bombing incident against the governor of Aden the capital, and the Minister, Al-Socotri, as crimes that will not be subject to statute of limitations, and the leadership of the Southern Transitional Council and those behind them will not discourage the people of the south as a whole from retreating from achieving the desired goal of liberation, independence, and restoring the southern state with its full sovereignty.
The meeting stood before the results of the meetings held by the Southern National Dialogue Team, stressing the importance of continuing it at home in order to achieve southern cohesion.
At the conclusion of the meeting, some issues related to the internal affairs of the National Assembly were discussed and necessary action was taken.