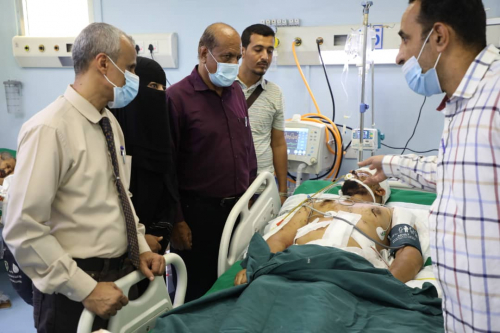 A team from the National Assembly of the Southern Transitional Council, headed by Nasr Harhara, the Rapporteur of the National Assembly, head of its secretariat, and under directives of the Chairman of the National Assembly, Major General Ahmed Saeed bin Brik, paid an inspection visit to the wounded of the recent events in Crater.
The team reassured on the health and safety of the wounded, who are receiving treatment in hospitals of the capital, Aden, and the level of service provided to them, conveying to the wounded the greetings of Major General Ahmed Saeed, the Chairman of the the National Assembly, and his wishes to them for a speedy recovery.
He also informed them about the interest of the political leadership, led by the President of the Southern Transitional Council, Supreme Commander of the Southern Armed Forces, President Aidarous Al-Zubaidi, on their situation and on providing them full health care, indicating that the leadership will be with them until Allah grants them a speedy recovery.
For their part, the wounded expressed thanks to the President Aidarous Al-Zubaidi and Major General Bin Brik, for their kind gesture, attention and follow-up to their health conditions, stressing that their spirits are high and nothing will deter them from defending the capital, Aden, in particular, and the South in general.
The visit was attended by heads of Committee at the National Assembly; Dr. Salem Al-Shabhi, Head of the Health and Environment Committee, Brigadier Nasser Howider, Head of Defense Committee, Dr. Jacqueline Battani, Head of Social Affairs Committee, and a number of deputy-heads of the National Assembly's Committees.