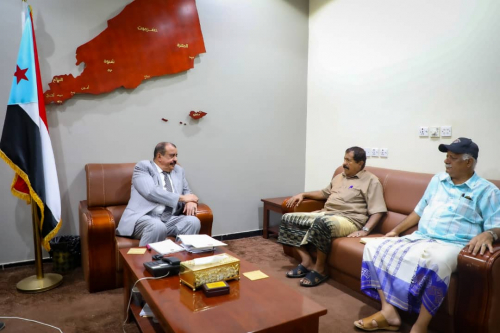 The Chairman of the National Assembly of the Southern Transitional Council, Major General Ahmed Saeed bin Brik, met today with the leadership of the Supreme Military Commission of the Southern Army and Security headed by Major General Saleh Ali Zangul, head of the Commission.
At the beginning of the meeting, Major General Bin Brik welcomed all the military leaders, informing them on the latest developments, the political and military situation in general, and the fabricated crises that the south in general suffers from, with the aim of which is to weaken the role of the Southern Transitional Council, the political carrier of the southern cause.
The meeting discussed a number of issues related to the southern soldiers and what they suffer as a result of the interruption of salaries in light of the exorbitant rise in food prices and other necessities for the life of the citizens.
The meeting also discussed the follow-up of the wages of military retirees and those forcibly suspended, as well as the implementation of judicial decisions and rulings related to settlements.