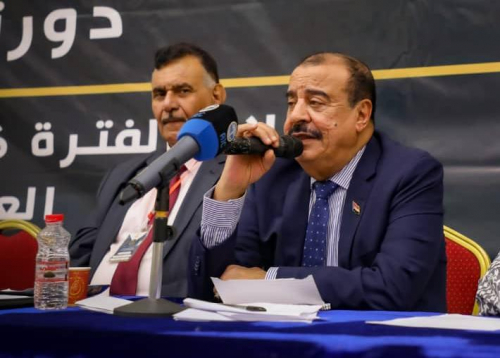 The Chairman of the National Assembly of the Southern Transitional Council, Major General Ahmed Saeed bin Brik, delivered good news to the people of the South, including upcoming developments that will push the South towards independence and the building of its independent state on its entire national land, stressing the success of the fourth session of the Assembly, after discussing complex and complicated issues and developing solutions and treatments for them.
Bin Brik said in statements to the media at the end of the session: "We announce to our people the success of the fourth session, at this time and in light of what our people are suffering from in the file of services, which the Southern Transitional Council has taken upon itself to follow up on these services and their developments," stressing: "I boded well to our people in the south that upcoming days will witness many developments and trends in favor of the South, and for achieving the state of the South."
Bin Brik called on the government to return quickly to the capital, Aden, in order to carry out its tasks, foremost of which is the service file, stressing that the southern position is clear on the need for the government to return to Aden, and that the Southern Transitional Council was and still supports its success, away from any political agenda that may not agree with the aspirations of the people of the South.
He added: "With regard to the Riyadh Agreement, we affirm our firm position, which is to support the efforts of the brothers in the Kingdom of Saudi Arabia to ensure security and stability in the country, and unify efforts to complete the battle to confront the Iranian project in the region."
The Chairman of the National Assembly continued: "The position of the South on this agreement comes in line with the international and regional desire to reach to a political settlement that gives everyone his right, and the right and cause of the southerners is one."
Major General Bin Brik warned that the continuation of the military mobilization towards the South will plunge the region into chaos with ominous consequences, and that the mobilization of the anti-south Brotherhood forces is evidence that they are forces of violence and terrorism and are far from the peace that everyone seeks.