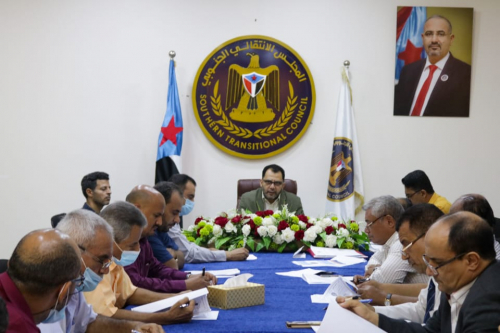 The General Secretariat of the Presidency of the Southern Transitional Council held on Monday its periodic meeting chaired by Eng. Adnan Mohammad Al-Kaf, the member of the Presidency, Acting Secretary-General, Chairman of the Relief and Humanitarian Action Committee.
At the beginning of the meeting, the General Secretariat welcomed the return of President Aidaroos Qassem Al-Zubaidi to the capital Aden, praising the fruitful results of the foreign moves and meetings he held with ambassadors and officials of regional countries and of permanent members of security council, and the UN envoy, and their important implications for the general situation of the southern issue in the political process.
The meeting then reviewed the political scene report submitted by the political department, which included the most prominent developments in the South during the past period, the most important political issues related to the South, its cause and its people, in addition to a set of political, economic, security and service developments related to the southern affairs.
The meeting discussed a report submitted by the Department of Administrative and Financial Affairs related to the level of job discipline of the staff of the General Secretariat during the last month of April, and the details it contained about the discipline of the staff of the Secretariat's departments during the mentioned period.
The meeting also stood in front of the latest ongoing preparations for the celebration of the fourth anniversary of the historic Aden Declaration, and the establishment of the Southern Transitional Council, and the sixth anniversary of the liberation of the capital Aden, and what has been accomplished in this regard.
The meeting reviewed the report of the activities of the General Secretariat departments during the past week, as well as reviewed its previous minutes and approved it.