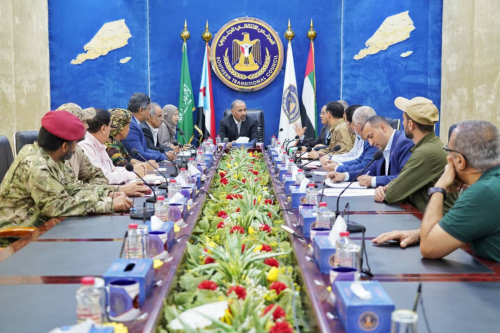 The President of the Southern Transitional Council, Supreme Commander of the Southern Armed Forces, President Aidaroos Al-Zubaidi, chaired on Saturday, the periodic meeting of the Presidency of the Southern Transitional Council.
The meeting witnessed a minute of mourning to read Al-Fatiha for the soul of the martyr of the homeland, Brigadier General Yahya Al-Shobaji, "the father of the martyrs," who was martyred while defending the homeland on the front in the northern province of Al-Dhalea.
After that, President Al-Zubaidi, previewed the results of his foreign tours and meetings that he held with a number of ambassadors and officials in a number of countries, stressing the approach and strategy based on adherence to the Riyadh Agreement and the need to implement all its provisions, and the necessity of the Southern Transitional Council's participation in the negotiations of the comprehensive political process to represent the people of the south at the negotiating table.
President Al-Zubaidi stressed the need to unify efforts and capabilities on the southern arena and gather all to face the dangers threatening the South, both land and people, as well as the unity of fate and position with the brothers in the Arab coalition led by the Kingdom of Saudi Arabia.
The meeting was devoted to discuss the ongoing preparations to celebrate the fourth anniversary of Aden historic Declaration on the fourth of May, and the establishment of the Southern Transitional Council on May 11, and the sixth anniversary of the liberation of Aden the capital, as the meeting assigned specialists to prepare well for these activities.
The meeting was attended by the cabinet ministers in the government, and the director of security in the capital Aden, and commanders of backup and support forces, Al-Aseefa (storm) forces, and the special security forces, in which it reviewed the security and military situation, praising the boldness and audaciousness of the heroes of the Southern armed forces in confronting the attack of the Houthi militia and crushing it with defeats.
The meeting also congratulated our people on the great victories achieved by our Southern armed forces, for the liberation of many sites in Al-Fakher front, north of Al-Dhalea.
The meeting also discussed a number of organizational aspects related to the work of the council's bodies, and took the appropriate measures in this regard.