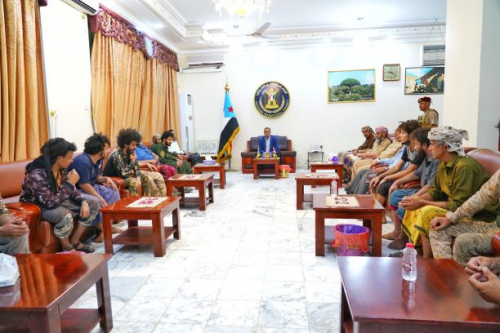 Dr. Nasser Al-Khobaji, Acting President of the Southern Transitional Council and Head of the Negotiations Affairs Unit, met on Friday, at the Council's headquarters in the capital Aden, a number of released prisoners from the Brotherhood's militia prisons in Shabwa and Abyan governorates.
The Acting President congratulated the freed prisoners for leaving the cells of the militias after months of suffering and torture, praising their steadfastness and heroism that they had broken in defense of their homeland and the aspirations of their people, and for the courage and courage they showed.
Al-Khobaji stressed the Southern Transitional Council's interest in the prisoners 'file, and the council's leadership support to all the prisoners until they are all returned to their families safely.
For their part, the prisoners expressed their thanks and gratitude to President Aidaroos Al-Zubaidi, the President of the Southern Transitional Council, for his keenness and interest in their safe return to their families.