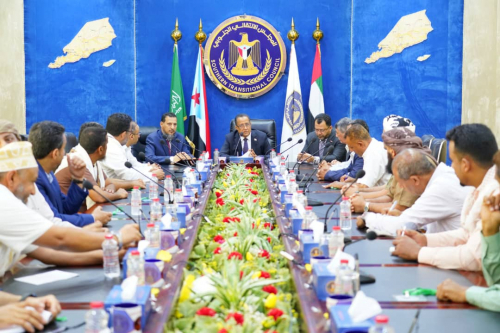 Dr. Nasser Al-Khobaji, Acting President of the Southern Transitional Council, Head of the Negotiations Affairs Unit, met on Sunday, with a number of members of the Chamber of Commerce and businessmen in Aden the capital.
The meeting discussed developments in the general situation in the capital Aden, and the country in general, and specifically the deteriorating in economic side due to the continuous collapse in the exchange value of the local currency, and the corresponding insane rise in the prices of basic commodities that exhausted the citizens, and possible solutions to stop that collapse.
In the meeting, Al-Khobaji reviewed what was included in the provisions of the Riyadh Agreement regarding economic aspects, foremost of which is the activation of the mechanism for linking banks and depositing revenues to the Central Bank of Aden, and reforming the state's financial policies, as well as reforming economic bodies, foremost of which is the Supreme Economic Council, and the National Anti-Corruption Commission and the Central Organization for Supervision and accounting.
The meeting discussed the security and military arrangements to create the security situation and its stability to attract investment, in addition to mechanisms of cooperation between the Southern Transitional Council and businessmen and finance to move the wheel of development.
The meeting also discussed the possibility of the private sector's contribution in helping public institutions to advance and activate their role, which comes at the forefront of which is confronting the second wave of the spread of the Corona pandemic.
The meeting called on with an urgent appeal to the leadership of the Arab Coalition to facilitate procedures for entering ships to the port of Aden and landing goods, as this measure represents the importance of stabilizing the supply situation in the local market.
The meeting was concluded to form a joint committee to follow up and assess the economic situation, and to coordinate related efforts.
The meeting was attended by members of the Presidency of the Council and the Negotiations Affairs Unit, Abdul-Rahman Sheikh, Adnan al-Kaf, and the member of the Council's Presidency, Head of the Executive Authority of the Council in Aden the capital; Eng. Nizar Haitham, and the member of the Negotiations Affairs Unit Anis al-Sharafi,.