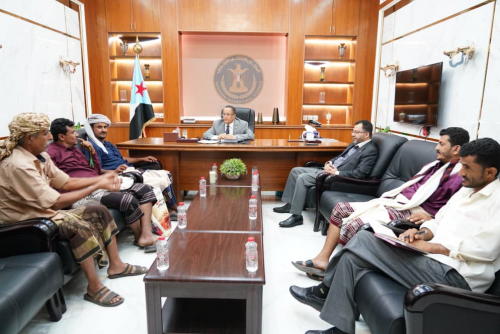 Dr. Nasser Al-Khobaji, Acting President of the Transitional Council and Head of the Negotiations Affairs Unit, met on Monday, with a number of leaders of the Southern Resistance in Abyan Governorate.
The meeting, which was attended by Eng. Adnan Al-Kaf, member of the Presidency of the Southern Transitional Council and member of the negotiating team, discussed developments in the security situation in Abyan governorate and its districts in general, and the role of the southern resistance and the efforts it is making to maintain security and stability in the governorate, and to combat terrorist organizations.
Dr. Al-Khobaji praised the role of the resistance in all southern governorates, and in Abyan governorate in particular, and the heroic stances of the southern armed forces in the squares of glory, honor and dignity with almost no means.
Al-Khobaji pointed out that the escalation of terrorist operations in Abyan Governorate is something that cannot be tolerated, and that the terrorist operations that targeted the heroes of the Security Belt in both Ahwar, Modiyah and Al-Wadia will not go unnoticed, stressing that the use of the terrorist organizations card and the declaration of this brutal weapon in the face of the southerners reveals the efforts made by those affected by the Riyadh Agreement to thwart its implementation.
Al-Khobaji stressed the need to raise the level of security vigilance and sense, especially at the dangerous juncture that the governorate of Abyan and the south in general is passing through, by uniting ranks and strengthening national cohesion, and taking more military and security measures that include curbing terrorist organizations and their financiers.
For their part, the leaders of the Southern Resistance expressed their thanks and appreciation to the leadership of the Southern Transitional Council, for the attention it pays to the elements of the resistance in Abyan and checking on their situation, stressing their readiness to carry out any combat or security tasks to maintain the security and stability of the governorate, and to defend the land of the south in general.