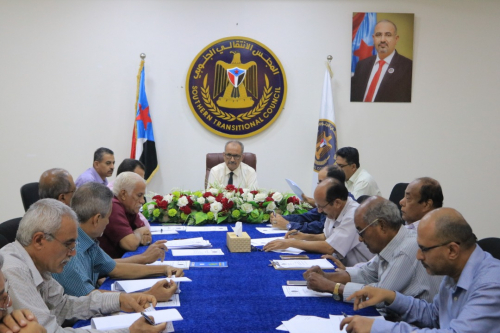 The General Secretariat of the Presidency of the Southern Transitional Council held on Monday, its weekly periodic meeting chaired by Mr. Fadl Mohammad Al-Jaadi, Deputy Secretary-General.
At the beginning of the meeting, the attendees stood for a minute of silence to read Surat Al-Fatiha for the souls of the martyrs who died in the terrorist attack that targeted Aden International Airport, asking the Almighty Allah to dwell the martyrs in haven and bless the wounded with a speedy recovery.
The meeting discussed the initial indications of the terrorist operation that targeted Aden International Airport, coinciding with the arrival of the members of the government of equality between the south and the north, which indicates that the Houthi group was behind the attack.
The meeting praised the role played by the local authority in Aden the capital, the Ministry of Transport, and the Saudi program to re-operate the airport.
The meeting touched on the security situation in the capital Aden, in light of the presence of the government and the absence of any security defect that hinders its movements, and facilitating measures that would provide public services to citizens while taking all measures that would preserve security and stability in the capital and the southern governorates.
The meeting stressed the importance of the role of ministries and their administrative teams after the Riyadh Agreement and the formation of the government, which stipulated the most important provisions on combating administrative and financial corruption and reducing expenditures that would waste public money in matters that do not serve citizens.
The meeting previewed a report submitted by the Economic Department, which included the economic repercussions after the terrorist attack on Aden International Airport, the continuous displacement from the areas controlled by the Houthi militia to the capital Aden and in the southern governorates, and the problem of banking transactions and paying taxes in favor of those militias.
The meeting discussed the report on the level of job discipline for the staff of the General Secretariat submitted by the Administrative and Financial Department and took the necessary measures in this regard.
The meeting reviewed the reports of the activities of the General Secretariat departments during the past week, and the minutes of its previous meeting that was reviewed and approved.