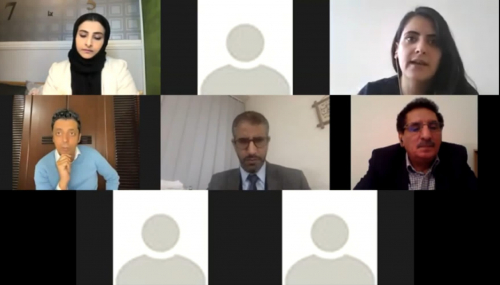 The General Directorate of Foreign Affairs of the Southern Transitional Council participated on Thursday, in the human rights symposium organized by the Southern Geneva Human Rights Group, on the occasion of the International Human Rights Day, entitled "The human rights situation in the south between reality and challenges."
In the symposium, which was attended through video broadcast by many international and local organizations and human rights activists, the representative of the General Department of Foreign Affairs of the Southern Transitional Council in Geneva, Counselor Abdel-Rahman Al-Messibli, explained the attention that the Transitional Council attaches to the promotion and protection of human rights issues.
The representative of the Transitional Council Foreign Affairs called on the Yemeni government to join international mechanisms that grant right to human rights victims to present their complaints to international sides.
For his part, lawyer Saleh Al-Nood, the member of the Transitional Council office in Britain, presented a vision about the possibility of making use of the procedures of the International Criminal Court to look into human rights violations in the South, calling for the establishment of a human rights team to look into ways to activate these cases internationally.
In his turn, Eng. Shadi Alwan, the member of the Independent Southern Group for Human Rights, explained the legal nature of the violations committed against southern citizens, describing them as crimes against humanity that were committed in a systematic and deliberate manner.
The human rights and media activist, Wedad Al-Douh, also reviewed a number of recent violations against southern citizens, in particular in the governorates of Shabwa and Abyan, indicating that these violations are committed based on a political background adopted by the Brotherhood's Islah Party, which controls government authorities.
The seminar was administrated by Shada Yassin, an expert in the field of human rights, and member of the International Independent Diplomats Organization.