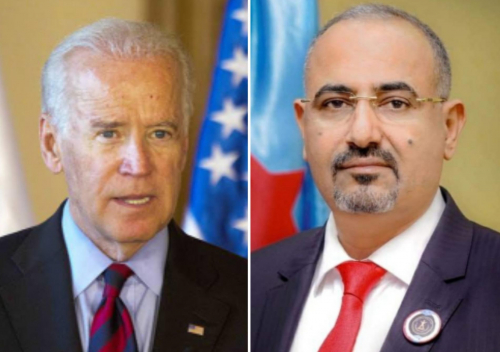 The President of the Southern Transitional Council, President Aidaroos Qassem Al-Zubaidi, sent a cable of congratulations to President Joe Biden on his election as new President of the United States of America.
In the telegram, President Al-Zubaidi conveyed his congratulations, the leadership of the Transitional Council, and the people of the South to President Biden on his winning the elections, wishing that the United States would witness further development during his reign.
President Al-Zubaidi affirmed the Southern Transitional Council's keenness to strengthen and consolidate bilateral relations between our countries, the South and the United States of America, in a way that achieves growth and prosperity for our two friendly peoples, and that the two countries' efforts be combined in facing common challenges, including the threat of terrorism, through the American administration's support for the Southern security services in combating this threat.
At the end of his telegram, the President expressed that the Transitional Council looks forward to the new American administration to pay special attention to the situation in our country and to support our people's struggle to achieve their aspiration of a free and dignified life.