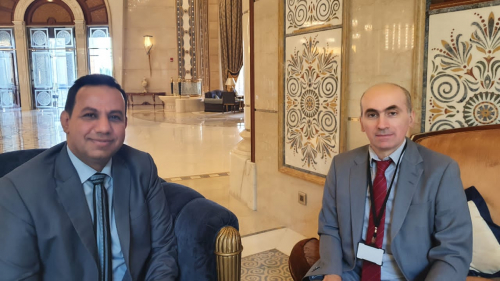 The representative of the General department of Foreign Affairs of the Southern Transitional Council met in the Saudi capital, Riyadh, with Mr. Christopher Katasian, the Deputy Ambassador of the Republic of France to Yemen.
The two sides discussed developments in the political arena related to the Riyadh Agreement and the formation of the agreed government and the reasons that led to the delay in its announcement, stressing on the importance of cooperation with the efforts of the Kingdom of Saudi Arabia in this regard, as well as the international efforts in the peace process led by Mr. Martin Griffiths.
In the meeting, Al-Shabhi stressed on the importance of the participation of the southerners in the final status consultations and the support of the five countries, especially the Republic of France, for this matter, and not bypassing the south and its cause, which would help to stop wars and conflicts, indicating that this is what was confirmed in the Riyadh Agreement, which stipulated the need for the Southern Transitional Council to participate in the delegation that will participate in the peace negotiations.
The two sides also touched on the recent events in the French capital, Paris, in which al-Shabhi confirmed the Council's rejection of all terrorist operations committed by extremists in the name of Islam, stressing on the importance of putting sanctities in consideration and not to offend any of it, and blocking the road in front of those groups.
For his part, the Deputy Ambassador of France, praising the continuous cooperation, and expressing his thanks to Al-Shabhi for the warm reception.