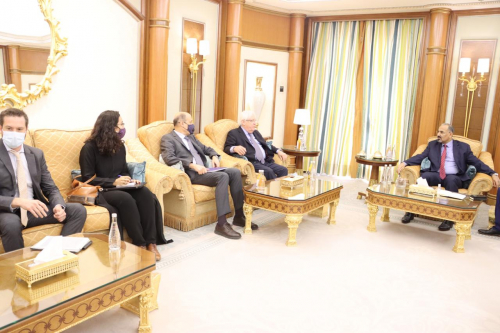 The President of the Southern Transitional Council, Supreme Commander of the Southern Armed Forces, President Aidaroos Qassem Al-Zubaidi, received on Tuesday, at his residence in the Saudi capital, Riyadh, the Special Envoy of the United Nations Secretary-General to Yemen, Martin Griffiths.
This meeting comes in light of the continued intensive efforts led and sponsored by the Kingdom of Saudi Arabia and the United Arab Emirates to advance the implementation of the mechanism for accelerating the Riyadh Agreement.
President Al-Zubaidi stressed that the Riyadh Agreement represents a real opportunity to bring peace and stability to our country, in addition to being a stepping stone to the comprehensive political process sponsored by the United Nations, appreciating the keenness of the leadership of the Arab Coalition to support the peace process through the Riyadh Agreement and the comprehensive political process.
President Al-Zubaidi also affirmed the Transitional Council's support for the efforts of the Special Envoy of the Secretary-General of the United Nations, stressing on the need for real representation for the South in all stages of the political process without exception, and at the same time affirming the Council's readiness to participate in the political process in accordance with the provisions of the Riyadh Agreement, as well as the impossibility of any existence viable solutions without real and complete representation of the South at the negotiating table.
With regard to the joint declaration, President Al-Zubaidi confirmed that the Southern Transitional Council has not yet received any invitation to participate in the consultations of the declaration, indicating that the delegation of the Transitional Council is ready to participate in the elaboration and review of the details of the declaration in accordance with what was indicated by the Riyadh Agreement regarding the formation of a joint government delegation.
President Al-Zubaidi noted that the Southern Transitional Council's failure to participate in the consultations of the joint declaration exempts the Transitional Council from any obligations contained in this declaration, pointing to the danger of repeating the production of agreements in which representatives of the South do not participate in a real way.