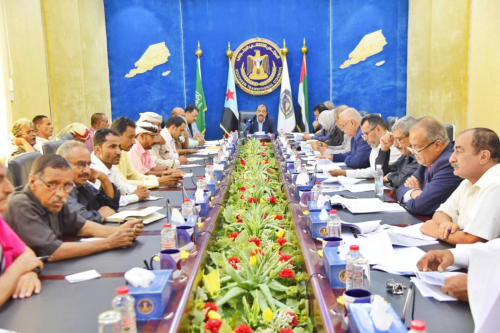 The Presidency of the Southern Transitional Council held on Sunday, its periodic meeting, headed by Major General Ahmed Saeed bin Brik, Acting President of the Council, Chairman of the National Assembly.
The meeting was attended by Lawyer Ramzi Al-Shuaibi, Head of the Executive Authority of the Local Leadership of the Council in Lahj governorate, and members of the governorate's executive body, and Mansour Zaid, Head of the Organizational Department of the General Secretariat, and his deputy, Dr. Musaed Al-Qutaibi, in which it reviewed the performance of the executive body of the Council in Lahj governorate and the difficulties encountered in its functioning, accordingly a set of auxiliary measures agreed to be taken to ensure that these difficulties are overcome and their performance improved during the next stage.
The meeting also stood before the periodic report of the Council's negotiating team and the Council's external leadership meetings, in this regard, the Presidency stressed on the need to expedite the implementation of the Yemeni government's obligations, and to propose to the Arab coalition to stand firmly in front of the government's procrastination and forcing it to implement the Riyadh Agreement.
The meeting stressed on the need to deliver the salaries of the southern soldiers that were promised by the government and the coalition, in order to find a comprehensive solution for this file at the end of this month, and to stop the obstacles that the government puts in front of the governor of the capital Aden to carry out his duties, as well as to stop the military escalation and the continuous mobilization of government forces in Shokra front and mobilize them to open other fronts on the western side, the Presidency confirmed the council's long-standing impatience to make space for the efforts of the Arab coalition to compel the Yemeni government to implement its commitment, which apparently does not pay any attention to these efforts.
At the end of the meeting, the Presidency listened to the report submitted by the National Assembly's rapporteur, Mr. Nasr Harrah, for the overall weekly activity of the National Assembly, and discussed a number of other issues and took the necessary actions regarding them.