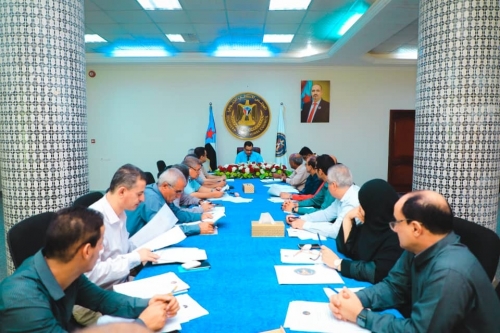 The General Secretariat of the Presidency of the Southern Transitional Council held on Monday, at its headquarter in Aden the capital, its periodic meeting, under the chairmanship of the Assistant Secretary-General, Major General Salem Abdullah Al-Sokatri.
Maj. Gen. Al-Sokatri previewed the results of his field visit to inspect the progress of military operations on the fronts of North Al-Dhali, praising the high readiness of the heroes of the joint southern forces, stressing at the same time on the importance of continuing to provide those heroes with supplies, ammunition and men, and paying full attention to the families of the martyrs and the treatment of the wounded.
Al-Sokatri stressed on the need to implement all decisions issued at the meeting of the Presidency of the Transitional Council, and the directions contained in the speech made by the President of the Transitional Council, President Aidaroos Al-Zubaidi, to the people of the south on Sunday regarding measures to be taken to confront the emerging corona virus.
The meeting stood before the latest developments on the southern scene, the most notable of which were the assassinations that took place in the capital Aden, after which the Emirati Red Crescent Authority employees Ahmed Al-Yousifi and Mohammad Tariq were martyred, as the General Secretariat expressed its deep condolences to the families of the martyrs, and its full condemnation of any terrorist acts targeting employees working in Humanitarian and Relief, and other fields.
The meeting discussed practical steps to tackle the Corona virus, stressing on the need to adhere to the measures taken by the Southern Transitional Council to address the epidemic that has affected many countries around the world.
The meeting endorsed the measures taken in the speech of President Al-Zubaidi to confront the Corona virus, which requires restricting movements, gatherings, and events in all its forms, stressing that this cannot be achieved without the cooperation of citizens with the relevant agencies.
The meeting listened to report submitted by the Political Department on the general political scene in the current month, which included many events on the southern square, in addition to a report submitted by the Human Rights Department, on the total activities implemented by the Department during the first semester of this year.