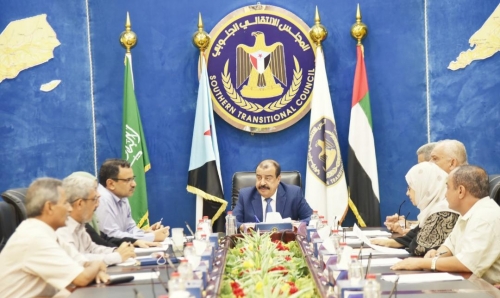 The Presidency of the Southern Transitional Council held its periodic meeting, on Sunday, headed by Major General Ahmed Saeed bin Brik, Acting President of the Transitional Council, Chairman of the National Assembly.
The Presidency stood before a number of important issues on the southern scene, foremost of which were the fronts of the fighting against the Houthi militias, praising the heroic role of our southern forces in seeking and sacrificing to defend the nation.
The meeting approved the cessation of all activities and events approved and directed its budget to provide the urgent requirements to enhance the withstand of our heroes in the fronts, especially for ammunition and urgent treatment for the wounded, and support the families of martyrs who sacrified their lives in support of the Arab national security project.
The Presidency appealed to the southern businessmen and all the able-bodied inside and outside the homeland to actively contribute by donations and providing aids.
The meeting also stood before the dangers of the spread of the Corona epidemic in the South and approved reducing the number of attendance of the members of the Transitional Council's bodies for their work and freezing its extended meetings to contribute in preventing its spread, directing in the context the southern military and security leaderships to take the necessary precautions to secure the southern army and security units.
The Presidency called on all people of the south to be aware of the dangers of the spread of the Corona virus on their lives, and appealed to them to stay in their homes, except in cases of extreme necessity, and to avoid all crowded locations in public streets, restaurants, hotels, parks, beaches, public parks, mass transportation, and crowded service facilities.
The meeting called on the concerned state institutions to quickly carry out their preventive duties that they are obligated to perform, and direct the state's resources and international support to protect citizens from this epidemic instead of using it for conspircies and plots and to split the southern row, stressing on the need to invite international organizations to help providing the necessary needs to prevent this deadly virus.
The Presidency reviewed the report of the Economic Department regarding the economic scene in the south during the first semester of this year, and in this regard approved the competent departments of the Gneral Secretariat to put in place the necessary oversight and media work mechanisms to deal with the recommendations and start implementing them.
In conclusion, the Presidency of the Transitional Council stood before the security incident in the city of Crater last Thursday evening, and mandated the Acting President of the Council to form a committee from the National Assembly to investigate and take the necessary measures in light of the results.