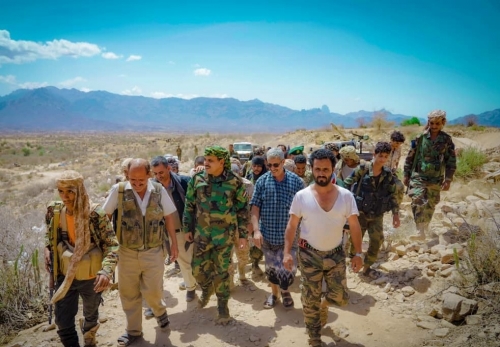 The Assistant Secretary-General of the Presidency of the Southern Transitional Council, Major General Salem Abdullah Al-Sokatri, along with lawyer Niran Hassan Sooki, member of the Presidency of the Transitional Council, Vice-Chairman of the National Assembly, and Amin Saleh, member of the Presidency of the Transitional Council, inspected on Thursday the fighting fronts in the North of Al-Dhali governorate .
The Assistant Secretary-General and his companions visited the front lines of the joint southern forces, on the fronts of al-Job, Saleem, and Al-Fakhir, expressing his pride in the high morale of the fighters stationed on these fronts.
Al-Sokatri exchanged greetings with the commanders, officers, and the fighters, conveying to them the greetings of the President, Commander, Major General Aidaroos Qasim Al-Zubaidi, the President of the Southern Transitional Council, Supreme Commander of the Southern Armed Forces, praising the steadfastness and sacrifices of the heroes fighters and their heroism in countering the Houthi terrorist militias supported by Iran.
The Assistant Secretary-General emphasized that the southern armed forces and the resistance forces in Al-Dhali governorate were able, through their cohesion, resilience and daring, to create a new southern history in defense of the land and sovereignty, and provided their blood and souls for the sake of the pride of the southern homeland.
For their part, the fighters on the fronts of the Al-Dhali governorate expressed their happiness and pride in this visit of the leadership of the Transitional Council, stressing that they have a high combat readiness with a moral and steadfast spirit.
The fighters renewed the covenant of the southern political leadership headed by President Aidaroos Qassem Al-Zubaidi, and their constant readiness to fulfill the call of duty and defend the gains of the southern homeland in various circumstances and times.
The Assistant Secretary was accompanied on this visit by Major General Mohsen Askar, the Military Adviser to the President of the Transitional Council, Eng. Nizar Haitham, the spokesman for the Transitional Council, Mansour Zaid, Head of the Organizational Department, Brigadier Abdullah Mahdi, Head of the Local Leadership of the Transitional Council in Al Dhali governorate, Mansour Salih, Deputy Head of the Media Department, and Adlan Al Hats Director of Al-Dhale'e Security Directorate and a number of brigade commanders and military and security units.