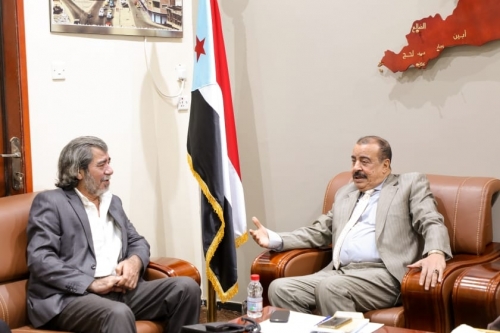 Major General Ahmed Saeed bin Brik, Acting President of the Southern Transitional Council, Chairman of the National Assembly, received, on Wednesday, at his office at the headquarter of the National Assembly in Aden the capital, Mr. Marwan Ali, Director of the Office of the United Nations Envoy to Yemen Martin Griffiths, in the presence of the deputies of the National Assembly Chairman, Attorney Niran Sooki and Lotfi Shatara.
The meeting discussed the situation in the south, and political developments, and negative attitude of the government's role of not implementing the terms of the Riyadh Agreement.
The meeting also discussed the status of international organizations and the harassment they are exposed to by hostile forces and the obstacles that are put in front of them to be disabled of exercising their tasks and perform their activities as required.
The meeting pointed to the problem of the displaced people coming from the northern regions in huge numbers, which increased the burdens of the southern governorates and cast a load over the basic services in the south, as a result of the absence of official government agencies overseeing these matters.
The deteriorating service conditions in the southern governorates were also reviewed as a result of the deliberate neglect by the legitimate government, which is represented by water scarcity and power outages, stopping salaries, and the deterioration of the local currency, and other issues, and the efforts of the Southern Transitional Council to address and resolve all of these issues according to the available capabilities.
Major General bin Brik, referred to the Southern Transitional Council's call for a comprehensive southern dialogue for all sects, parties, and political, social, and economic components from outside the Southern Transitional Council to engage with them, to enhance the southern national unity so as to achieve the aspirations of the people of the South.
Maj. Gen. Ben Brik asserted that the Transitional Council remains firmly committed to the Riyadh agreement to achieve peace and end the war permanently.
For his part, Mr. Marwan Ali praised the call made by the Southern Transitional Council for the comprehensive South-South dialogue, stressing on the necessity of activating the role of the media to keep pace with and to comprehensively cover all developments and events on the ground and convey them in a transparent and credible manner.