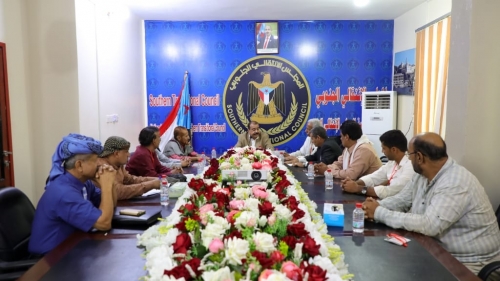 Major General Ahmed Saeed bin Brik, Acting President of the Southern Transitional Council, Chairman of the National Assembly, received on Monday at the headquarter of the National Assembly in Aden the capital, the Southern-Southern Consensus Commission, headed by Ahmed Omar Al-Marqashi, the Honorary President of the Commission.
Maj. Gen. Ben Brik listened to the ideas and proposals of the Commission to the benefit of the southern issue and the south in general, and their welcome to the initiative of a comprehensive southern dialogue for all political components that are outside the southern Transitional Council, which proves the good intentions of the Southern Transitional Council in accepting the others, and its desire to unite the southerners for the interest of the South in general.
The meeting touched on the status of the south after the Riyadh agreement, as well as strengthening the southern home front.
The meeting stressed on the necessity of activating the role of the southern media to sow what is happening on the ground and the reality in a transparent manner to the citizens, and to discuss the unauthorized construction and the deployment on the southern lands, epecially in the capital Aden and the governorates of Lahj and Abyan, and the issue of the collapse of the local currency and its effects on the economic and living status of the citizens in the south.
The Chairman of the National Assembly reassured that all the negative behaviors that have appeared since 2011 and worsened more after the recent war on the south in 2015, will be eliminated soon by the force of law, stressing that the Transitional Council and its leaders are steadfast in what they have been promised to the people of the south, and will not give up a part of the lands of the south.