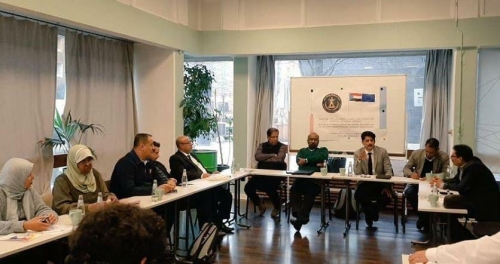 The Transitional Council office of the General Administration of Foreign Affairs in the European Union in the city of Berlin, in Germany, organized an extensive meeting with the southern associations and organizations in the countries of the European Union.
The meeting discussed the possibility of forming southern civil society organizations in the countries of the European Union to serve the southern people.
The meeting discussed mechanisms for coordination and cooperation between societies and southern organizations in Europe, and cooperation to qualify southern cadres in Europe.
On the sidelines of the meeting, a symposium entitled "South 2035: A Developmental Vision for Building the Southern State" was presented by Dr. Anas Saeed Al-Yazidi via Skype, the symposium dealt with several sectors, the most important of which were the national development and rescue program, and the future of civil life in the south in various fields.
In a statement by Ahmed Omar Ben Farid, Director of Foreign Affairs Office of the Transitional Council in the European Union, clarified that this symposium is the second event held by the Transitional Council Office in the European Union countries.
He pointed out to the symposium presented by Dr. Anas Saeed Al-Yazidi, by saying: "Dr. Al- Yazidi presented a full and complete explanation of the form of the southern state in terms of economic development, and culturally and socially, and all that is related to it."
He added: "I believe that such symposiums refute the slander of the opponents of the independence project who are always promoting that the southerners do not have a project for the state."
The meeting was attended by representatives of the Coordination Council for Southern Communities in Europe, the Southern Women's Caucus in Europe, the Independent Southern Group, My Right "Men Hakky" Foundation for Women Political and Developmental empowerment, the Southern Consultative Center for Rights and Freedoms, and the Southern Center for Human Rights Monitoring (SCHR).