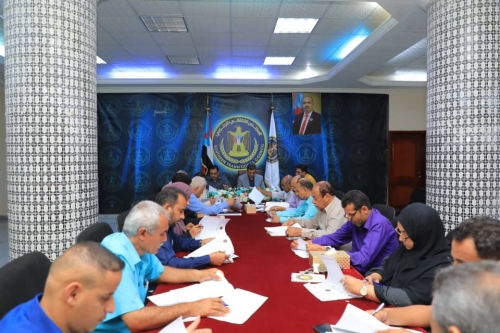 The General Secretariat of the Presidency of the Southern Transitional Council held on Monday, its weekly meeting at its headquarter in Aden the capital, headed by Ahmed Hamed Lamlas, the Secretary-General, and in the presence of Major General Salem Al-Sokatri, the Assistant Secretary-General.
The meeting reviewed the reports of the weekly activities of the departments, in addition to a report on the weekly activities of the executive bodies of the local leaderships in the governorates, to be discussed and approved.
The meeting previewed reports submitted by the departments on the developments of the southern scene, foremost of which is a report from the economic department on the economic scene during the past two weeks, and on the crisis in the capital Aden in the oil derivatives, as well as the frequent interruptions in the electricity service.
The meeting also previewed a report submitted by the Political department on the political scene, and a summary submitted by the Youth and Students department on the situation of youth in terms of building and establishing students entities.
The meeting discussed a report submitted by the Administrative and Financial department on the level of job discipline during the month of January, and took the necessary measures in this regard.
In the conclusion, the meeting discussed the activities of the Transitional Council bodies and its relevance with the developments in the southern scene during the next stage