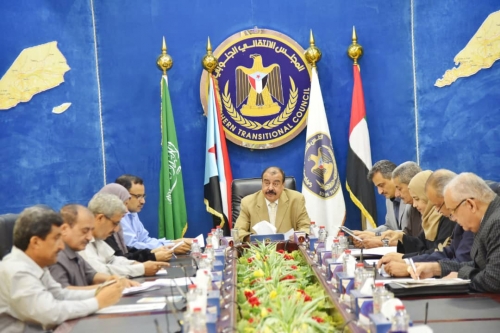 The Presidency of the Southern Transitional Council held its periodic meeting on Sunday, in Aden the capital, under the chairmanship of Major General Ahmed Saeed bin Brik, Acting President of the Transitional Council, Chairman of the National Assembly.
The meeting reviewed political, military, and economic developments on the southern scene, and also previewed an analytical report submitted by the Decision Support Center on developments during January 2020.
The meeting discussed the issue of the displaceds to the capital Aden, and affirmed that the situation in Aden the capital does not bear more displaced people who have exceeded the population of the governorate, and increases the current crisis that Aden suffers from in electricity, water, health, education and other services, stressing on the need to find solutions by the Arab Coalition for the displaced to be outside Aden, due to the inability of the infrastructure of the capital Aden and the southern governorates to accept more of them.
The meeting suggested sending all Yemeni army forces present in the South to the fronts to protect and secure Marib and restore the areas handed over by Brotherhood leaders to the Houthi militias in Nihm, Sana'a, Al-Jawf, and all the northern governorates.
The meeting reviewed the results of the meeting of the Acting President of the Transitional Council with Geneva Call, and the officials of the International Red Cross, and a number of other related topics.