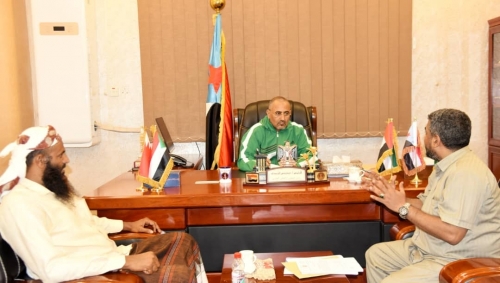 The President of the Southern Transitional Council, President Aidaroos Al-Zubaidi, received on Monday, Sheikh Saleh Ali Saeed Al-Khazour, Sheikh of Mayon Island, and the Director General of Al-Mualla District, Fahd Moshabak.
President Al-Zubaidi listened to a detailed explanation on the situation in Mayon Island and the efforts made to provide services to the island's residents who suffer as a result of the repudiation of the authorities responsible for carrying out their role there.
President Al-Zubaidi directed to provide the necessary support to the island's residents in terms of relief and health materials and maintenance of electricity generators to alleviate the suffering of the people.
For his part, Sheikh Al-Khazour praised President Al-Zubaidi's care and attention to the people of Mayon Island and his continuous support to them.