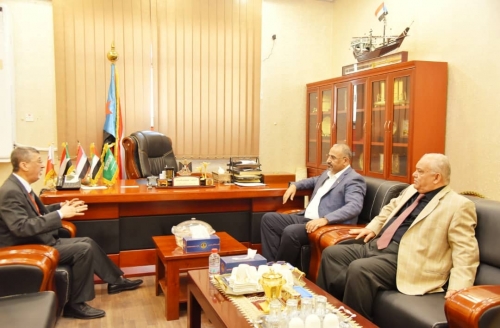 The President of the Southern Transitional Council, President Aidaroos Qasim Al-Zubaidi, received at his office in the capital Aden, on Monday, Mr. Abu Bakr Baobaid, Head of the Chamber of Commerce and Industry in Aden the capital.
President Al-Zubaidi got briefed on the difficulties facing businessmen and merchants in the capital, Aden, in light of the current economic conditions.
Baobaid presented an integrated picture of the market statutes and the negative effects of the instability of the foreign currency exchange rate on the prices of basic food commodities that citizens need.
Baobaid emphasized that the Saudi deposit has an important role in the stability of commodity prices during the last period, stressing that the price level during the coming period is directly related to the status of that deposit, and the availability of foreign exchange to importers.
President Al-Zubaidi praised the efforts made by the Chamber of Commerce and Industry to ensure market stability, stressing his support for any measures taken by the Chamber of Commerce to alleviate the suffering of the citizens.