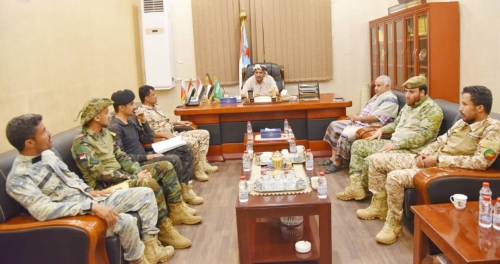 The President of the Southern Transitional Council, Supreme Commander of the Southern Armed Forces, President Aidaroos Qasim Al-Zubaidi, met on Monday, with a number of leaders of Al-Hazm battalions.
President Al-Zubaidi discussed with them the security developments in Aden the capital, and the rest of the governorates, and the efforts made to maintain security and stability.
President Al-Zubaidi listened to a briefing on security measures designed to track down terrorist cells, stop squatter construction, halt violating state lands, public spaces, and private property, stressing on the support of the Transitional Council for all measures taken to keep security and preserve public and privet properties.
For their part, the leaders of Al-Hazm battalions confirmed the readiness of their forces to carry out all the tasks assigned to them, appreciating the keenness and care of President Al-Zubaidi in providing the necessary to establish security and stability.