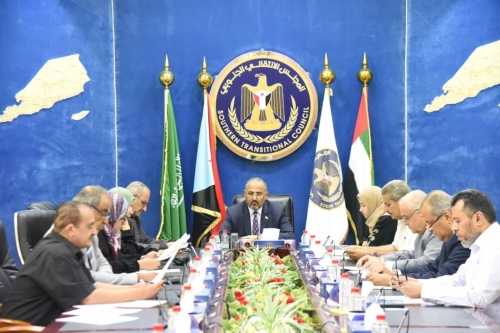 The Presidency of the Southern Transitional Council, headed by the President of the Southern Transitional Council, President Aidaroos Qasim Al-Zubaidi, held on Sunday its weekly meeting in Aden the capital.
During the meeting, President Al-Zubaidi briefed the Presidency members on the results of the meetings in Saudi and UAE with the officials of the two countries, as well as the meetings with ambassadors and envoys of a number of countries and international organizations.
The meeting also discussed the outcomes of the Riyadh agreement and the efforts of joint military and security committees under the supervision of the Arab Coalition to implement the agreement.
The meeting called on the Yemeni government to work within the framework of the strategic partnership with the Arab Coalition to accelerate the process of improving the services to the citizens, and the payment of salaries, and providing the necessary needs of oil derivatives to operate power plants and water pumps.
The meeting affirmed the full cooperation of the Transitional Council in this and other fields in accordance with the Riyadh agreement.
The meeting expressed appreciation for the efforts of President Aidaroos Al-Zubaidi in strengthening the Transitional Council's relationship with foreign countries that are active in international politics.