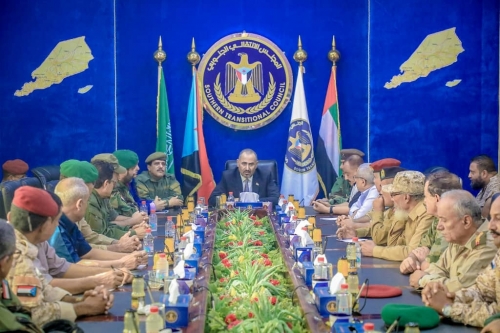 The President of the Southern Transitional Council, Supreme Commander of the Southern Armed Forces, President Aidaroos Qasim Al-Zubaidi, chaired on Saturday an important meeting of the southern military and security leaderships.
President Al-Zubaidi congratulated them and all southerners on the 52nd anniversary of the independence of the South, reiterating to follow the footsteps of the martyrs to restore the full sovereign state.
President Al-Zubaidi briefed the attendances on the military and security aspects of Jeddah dialogue, which concluded in the signing of the Riyadh agreement.
President Al-Zubaidi stressed on the continuation of the performance of the tasks assigned to them and raise the level of vigilance on all fronts to confront the Houthi coup forces, and to defeat the Iranian expansionist project.
President Al-Zubaidi said that the dialogue is continuing within the framework of military and security committees to establish the mechanism of implementing the points of the Riyadh agreement, stressing that the Transitional Council will do everything in its power for the best interest of the homeland and to safeguard the interests of the nation.