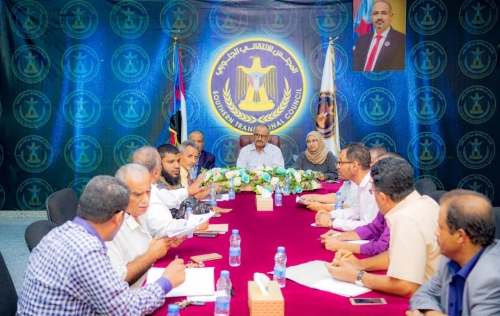 The Assistant Secretary-General, Member of the Presidency of the Transitional Council, Mr. Fadhl Mohammed Al-Jadi, chaired on Thursday, at the headquarter of the General Secretariat in Aden the capital, a meeting of a number of officials of the security authorities and government institutions and services corporations.
The Assistant Secretary-General welcomed the officials from the Public Authority for Lands, and Aden Free Zone, and the Electricity Corporation in Aden, and the Facilities Protection Guards Force, appreciating their national interest to join this meeting to discuss the violations on the state lands and properties, and the unauthorized construction on a number of public parks and monuments of Aden.
Al-Jadi said that the responsibility to preserve the civilized face of Aden lies with everyone, starting from the concerned related authorities reaching to the citizens whose duty is to raise their voice loudly to reject any absurdity affects negatively their city.
The Assistant Secretary-General noted on the need of everyone to abide by the laws, and face the tampering operations in the lands file in a manner that ensures the application of law and order.
The attendees reviewed the main problems and issues related to the lands and realstates file, and presented a number of proposals that would control and put an end to this problem.
The meeting was attended by members of the Presidency of the Transitional Council, Mr. Lutfi Shatara, and lawyer Niran Souki.