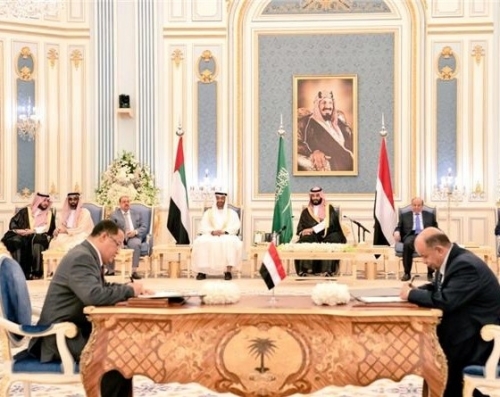 The Saudi capital Riyadh witnessed on Tuesday 5 November the ceremony of signing the Riyadh Agreement between the Southern Transitional Council and the Government of Yemen in presence of the President of the Southern Transitional Council, President Aidaroos Qasim Al-Zubaidi, Crown Prince of the Kingdom of Saudi Arabia, Prince Mohammed bin Salman, Crown Prince of Abu Dhabi, Sheikh Mohammed bin Zayed, and Yemeni President Abd Rabbu Mansour, in addition to a number of officials and ambassadors of Arab and foreign countries.
Following the signing, the UN Special Envoy for Yemen, Martin Griffiths, announced that the Riyadh agreement is an important step towards a comprehensive peace settlement.
The agreement, sponsored by Saudi Arabia, establishes a new phase of cooperation and partnership, to unit the efforts to face the Houthi coup and to resume development and construction, especially in the liberated southern provinces.