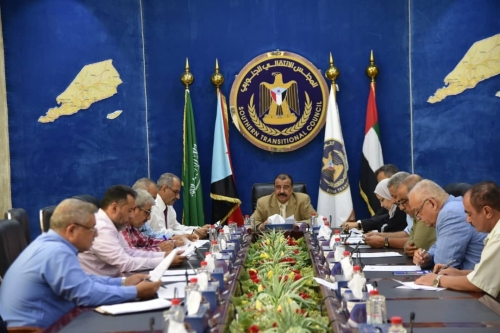 The Presidency of the Southern Transitional Council held on Sunday its weekly meeting in Aden the capital under the chairmanship of Maj. Gen. Ahmed Saeed bin Brik, chairman of the national assembly, acting president of the Transitional Council.
In the meeting, the Presidency praised the steps of the Transitional Council negotiating delegation in Jeddah dialogue, which was called for by Saudi Arabia.
The Presidency of the Transitional Council called on all the southern people not to be dragged behind the misleading news broadcast by media hostile to the South and its cause, reiterating that the negotiation process is still ongoing and will support the Transitional Council's directions to achieve the aspirations of our southern people.
The Presidency highly valued the victories achieved by the southern army Dhali fronts, which expelled the Houthi militias from large areas to boarders of the Yemeni province of Ibb.
The Presidency Council affirmed its support to the Southern Military and Security Authority to oblige the concerned authorities to pay the salaries of the military personnel.
The meeting discussed the report submitted by the Head of the Political Department of the Secretary-General who participated in Tunis workshop which was held in last September.
The meeting also discussed the activities of commemorating the 14th anniversary of October Revolution which will be organized by the General Secretariat in coordination with the local leadership in Aden.