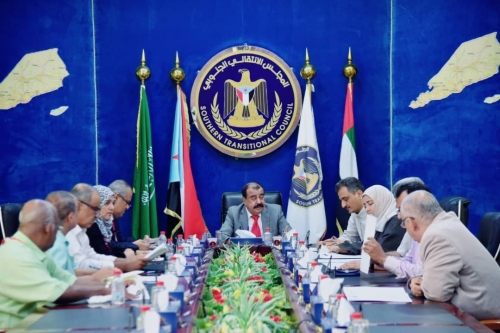 The Presidency of the Southern Transitional Council held on Sunday its periodic meeting under the chairmanship of Major General Ahmed Saeed Bin Brik, Acting President of the Southern Transitional Council, Chairman of the National Assembly.
The meeting previewed the report submitted by the decision-making support center on the educational situation, and the activities of the members of the Presidency in accordance with laws and regulations.
The meeting discussed the political and economic developments in Aden the capital and the southern governorates, especially the obstacles put by the Muslim Brotherhood government to disrupt services and not to pay salaries, and its denying of meeting the necessary needs of citizens, specifically with regard to the provision of fuel for power plants, and the removal of damage caused by rainfall, which The Transitional Council has done instead as a national and moral duty towards citizens.
The meeting reviewed the military developments on various fronts in light of the decisions issued by the Muslim Brotherhood government to hand over a number of liberated sites on the southern borders of Saudi Arabia to Houthi militias.
The meeting affirmed its full solidarity with the wounded and the support in their protest movement against stopping the system of issuing passports, which hinders their travel for medical treatment, which the government uses as a political card to punish the people of the south.
The Presidency of the Southern Transitional Council stressed on the importance of the southern national unity in the face of conspiracies, praising the community and popular movements in Hadramout Valley, which embody the unity of the southern attitude in all governorates to face Brotherhood plans.