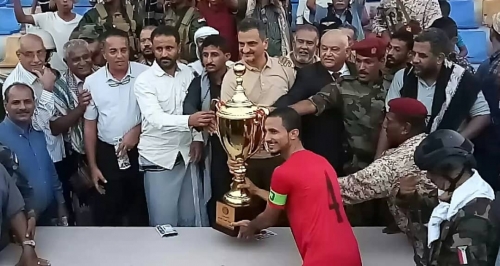 Under the sponsorship of the Southern Transitional Council, Al-Tilal football team won on Saturday, the Cup of Martyr Brigadier General Munir Mahmoud Al-Yafei (Abu Al-Yamamah) after defeating Al-Wahda team 3 – 2 by penalties shootouts in a football match that was held in the Stadium of Hussein Bawazeer in Al-Ma'ala in Aden the capital.
The match was organized by the Football Association in the capital Aden and under the supervision of the Youth and Sports Office, in which it witnessed the attendance of great crowd of people due to the great sport history of the two sport teams in Aden and for the love of the people to the martyr Munir Abu Al-Yamamah.
After the end of the match, the Secretary General of the Presidency of the Transitional Council, Mr. Ahmed Hamed Lamlas, and Dr. Abdulnasser Alwali, Member of the Presidency of the Transitional Council, Head of the Transitional council local leadership of Aden the capital, honored the leader of Al-Tilal team with the championship trophy.