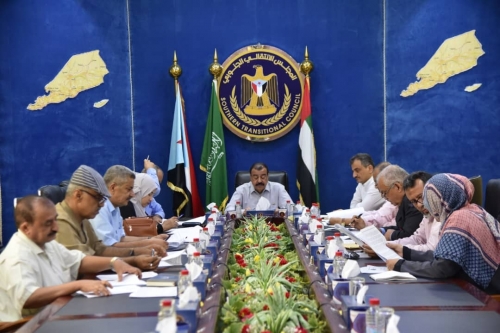 The Presidency of the Southern Transitional Council held on Sunday its regular meeting under the chairmanship of Major General Ahmed Saeed bin Brik, Chairman of the National Assembly, Acting President of the Transitional Council.
The meeting discussed a report submitted by the decision-making support center on the latest developments in the month of August, and the report of the adviser of the President of the Transitional Council for Military Affairs, Major General Mohsen Salem Askar, on the military situation in Aden the capital and the governorates of the South.
The Presidency commended the steadfastness and stability of the southern armed forces stationed at the borders in the face of Iranian Houthi and Muslim Brotherhood terrorist militias, and the role of security forces and belts in the restoration of security and normalizing the situation in Aden the capital.
The meeting praised the crowds of people that gathered last Thursday in both the main street of Ma'ala in Aden and in the capitals of Hadramout and Socotra, to which the people of the south came from all over the South to express their gratitude to the UAE for fighting terrorism.
The meeting stressed on the need to show high vigilance in the face of the conspiracy aimed at undermining the Southern victory, stressing also on the need to face the misleading rumors waged by the anti-South forces, and to protect the broad popular rally around the southern political leadership and the Southern army and security forces, and to report the criminal terrorist gangs.