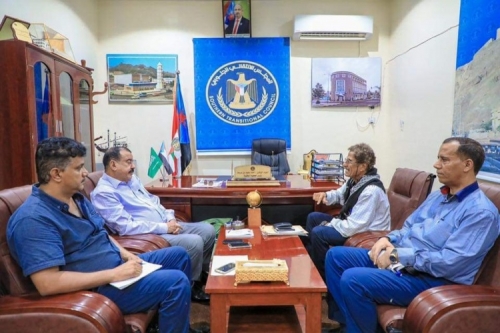 The Chairman of the National Assembly of the Southern Transitional Council, Maj. Gen. Ahmed Saeed Ben Brik, discussed on Wednesday with Brigadier General Hussein Al-Halimi, the official spokesman for the military, security, and civilian coordination councils in the south, the prospects of mutual cooperation between the Transitional Council and the coordination councils.
In the meeting, Maj. Gen. Ben Brik previewed the latest updates in the southern arena and their impact on the southern society in the future, stressing on the importance of the southern alignment in the next stage, as it is one of the most difficult stages experienced by the country.
Ben Brik called on the political forces and the southern organizations to focus on the principle of unity and abandon the division, and not to give the opportunity for external interference to disrupt the southern society, with the need to strengthen the role of security and stability in Aden the capital.
For his part, Al-Halimi expressed his deep thanks and gratitude for the good invitation of the Transitional Council, which expresses the appreciation and respect of the southern personalities who represent the voice of the people, affirming on the efforts of the various southern forces to stand side by side with the leadership of the Transitional Council.