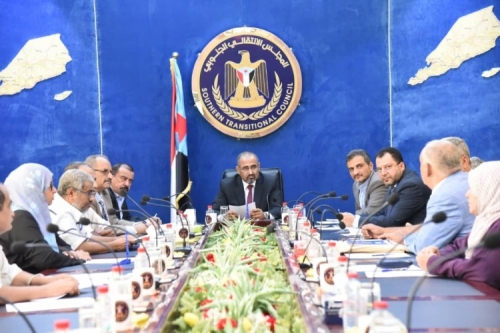 President of Southern Transitional Council, supreme commander of the Southern Resistance, Aidaroos Qasim Al-Zubaidi, chaired an extraordinary meeting for the Transitional Council presidency today morning in Aden the capital.
Al-Zubaidi briefed the council presidency on the results of his trip with a number of the Transitional Council leaders accompanied him, and their meetings with UN officials and ambassadors of major countries, noting that through these successful meetings the Transitional Council leadership presented the UN officials and the ambassadors with the situation on the Southern arena in light of the terrible economic collapse and the people suffering due to the acts of the government of corruption.
President Al-Zubaidi pointed out to the international understanding touched by the Transitional Council leadership to our people demands, and the importance to find satisfactory solutions to existed issues top of them the people of the South issue.
The meeting saluted the 55th anniversary of the glorious 14 October revolution, which will be in few days, stressing that celebrating the anniversary of this revolution represents its national and liberated values, and for the honor of its martyrs and fighters.
In the meeting, the preparations of celebrating this revolution anniversary discussed, in which this year it comes in line with the historical statement of the Southern Transitional Council that called our people to come out for revolution to restore their institutions from the hands of the officials of corruption and to be for the people.
The Transitional Council presidency agreed to remain in permanent session to follow up the developments on the southern scene and the related solutions.