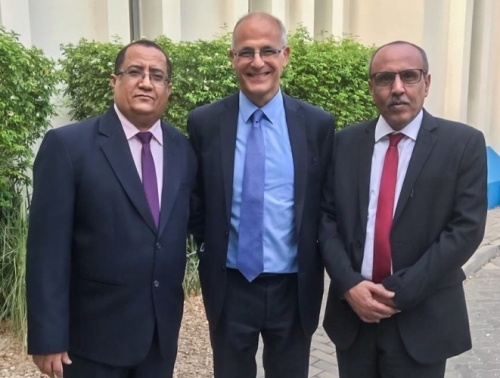 Dr. Nasser Al-Khobji and Mr. Ali Abdullah Al-Kathiri, members of the Presidency of the Southern Transitional Council, met on Wednesday in the UAE capital of Abu Dhabi with the UK Ambassador to Yemen, Michael Aaron.
During the meeting, they discussed the latest developments in the South and the efforts of the Special Envoy of the Secretary-General of the United Nations to Yemen to revive the peace negotiations.
Al-Khobaji and Al- Kathiri presented a detailed explanation of the tragic situation of the southern people as a result of the government tampering and corruption, stressing that the south will not stay idle in the face of the attempts to subjugate, humiliate, starve, and undermine its people, calling for the empowerment of the Southern people to manage and control their affairs to benefit from their land resources and wealth.