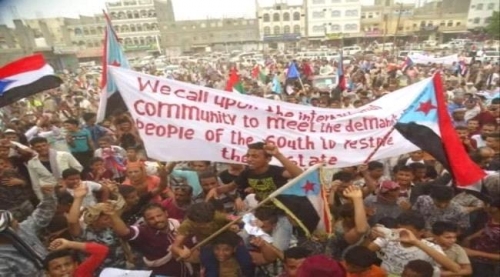 In response to the call of the Southern Transition Council, a popular uprising with a major march erupted in Habilain city of Radfan, in Lahj governorate, against the corrupt government, rejecting its policy of starvation and impoverishment to subdue and humiliate the people of the South,
Thousands of Radfan's citizens participated in the march stressing on refusing any negotiations beyond the will of the southern people, warning of any outputs excluding the southern force that dominating the ground,The angry demonstrators streamed the main street of the city raising flags of the south and Arab alliance, with pictures of martyrs of the south and of President of Transitional Council Aidaroos Al-Zubaidi, The demonstrators carried signs saying " No to the legitimacy of corruption" and yelled slogans against the international ignorance, stressing on not accepting any political negotiations exclude the south cause. The protesters confirmed their determination to continue the struggle and the revolutionary escalation till the achievement of all the objectives of the southern revolution.
They demanded the removal of the Muslim Brotherhood-linked government which deliberately led the country to bad living conditions, high prices and lack of services, Expressing their appreciation to the Arab coalition countries, represented by the Kingdom of Saudi Arabia and the United Arab Emirates, for their support in the battle of liberation from the northern Houthi invasion, demanding them to stand by the fairness of the southern cause; to achieve their aspirations and establish the southern state with Aden as its capital.