southern transitional council
2020-01-22 00:00:00
---
Responding to the Southern Transitional Council, an angry march in Al-Dhala rejecting the corrupted government and demand restoring the state
Council News
2018-09-06 21:07:00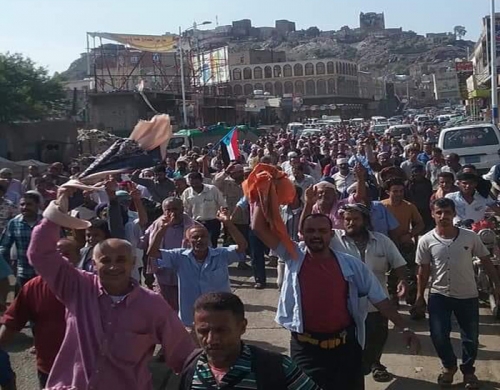 Al-Dhala province witnessed a major march on in response to the Southern Transitional Council call, which has taken decisions in recent days that would get the consideration of the people of the south soon.
In the march, the masses chanted slogans (no to legitimate government after today) and slogans emphasize that the southern people are one nation and has one goal which is restoring the independence state of the south.

The crowd called on not allowing corrupt people in the government of corruption to continue making the people of the south suffer from their starving and harming the people policy . Stressing on the necessity to topple the corrupt legitimacy government and establish a southern government from the various southern provinces to protect the south and preserve the dignity and the livelihood of the southern citizen.

They also condemned the ongoing consultations on the southern cause, they stressed that all the people of the South reject any outcome of consultations or negotiations that go beyond the southern issue and do not meet the aspirations of the southern people.


https://en.stcaden.com/news/8364
You for Information technology