southern transitional council
2022-11-30 00:00:00
---
The Transitional Council Sponsors a Youth Ceremony in Aden
Council News
2017-11-27 12:25:55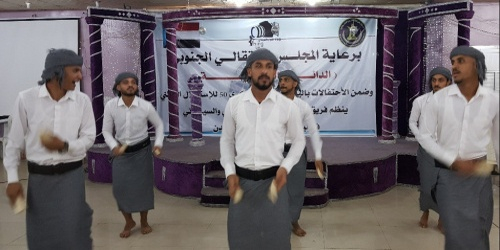 Under the auspices of the Southern Transitional Council/ the Cultural Department, a youth ceremony was held this morning in the capital Aden, organized by NEW THING for Artistic and Film Production, within the celebrations of the Golden Jubilee of the Independence Day the 30th of November with a broad participation of cultural and youth elites.

At the ceremony, NEW THING team paid homage to the member of the STC Presidency and head of the Cultural Department, Dr. Mona Bashraheel for her efforts in supporting creative youth and making this morning ceremony possible.

Dr. Mona Bashraheel delivered a speech in which she conveyed the greetings of the STC Presidency represented by president Aidroos Qasim al-Zubaidi. She said that thanks to Allah the Almighty then to the directions of the STC president al-Zubaidi, we work well together as one team, she also extended her sincere gratitude to the United Arab Emirates and all the countries of the Arab coalition for their honorable stances by the homeland in war and peace.

Dr. Mona confirmed that the biggest concern is the restoration of the southern state and to guide the young generation to the straight path and take advantage of their energies to build and protect the homeland, affirming the STC support for the creative young people.

The event program includes special chants presented by the scouts, a historical presentation of the capital Aden and the southern governorates, folk dances performed by Sama Aden Group, a theater show that depicts today's fabricated crises and the suffering of all the social categories, poems and musical performances that were enjoyed and appreciated by the audience..



https://en.stcaden.com/news/8028
You for Information technology