southern transitional council
2022-11-30 00:00:00
---
The STC Inaugurates its Foreign Relations Department in the USA
Council News
2017-11-26 09:08:24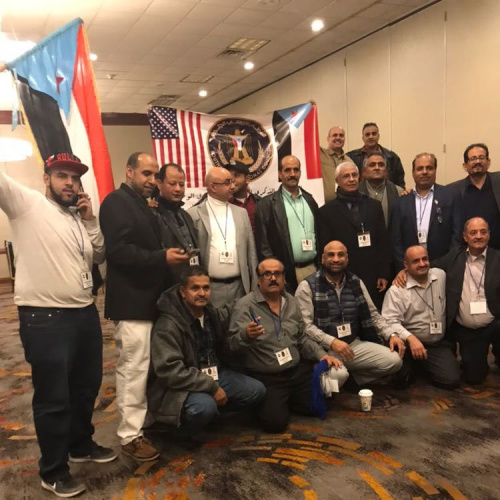 The foreign relations department of the Southern Transitional Council launched its department in the United States this morning . The inauguration was attended by Ambassador Abdulsalam Alskoldi and representatives from all the States in the USA as well as a large crowd of STC supporters there.

The ceremony began with verses of the Holy Qoran recited by Dr. Abdulhakeem Alhasel followed by a welcome speech presented by Dr. Mohamad Sulaiman chair of the Southern community in Michgan. In which he welcomed his Highness Ambasador Alsoklodi and thanked the attendance and praised their support for the STC.

Next, head of the foreign department of the STC Dr Aidros Alnaqeeb spoke via telephone to the attendance at the ceremony in which he thanked them for the great efforts exerted by the southern people's communities in the United States for their active patriotic role there .He also carried to them greeting from members of the presidium of the STC and Maj. Gen Aidros Al Zubaidi .

Alnaqeeb stressed on the importance to work for the next stage to overcome the difficulties and challenges which the citizens in the south are facing and calling them to put forth efforts, to work as one team to serve the South and to give priority to the public interest.

On his part, ambassador Abdulsalam Alsoklodi presented a word in which he focused on a number of topics, one of which was the work of the foreign relations department in the USA to a full communication between the STC Council and the southern communities in all the American states in addition to its role in delivering the southern people's voice to the international organizations and to the decision makers in America.

On his part Dr.Abdulhakeem Alhasel, the official spokesman of the Yafe community in the USA, gave an enthusiastic word in which he assured the people of Yafe's support in the USA to the STC presided by Aidros Al Zubaidi as a representative of the southern issue . He said that it is vital to form a coordinating body for all the southerners in the USA and the importance to form teams specialized in information , education and charity work to support the job of the foreign relations department through forwarding views and sharing expertise with the STC office in the USA.
https://en.stcaden.com/news/8027
You for Information technology