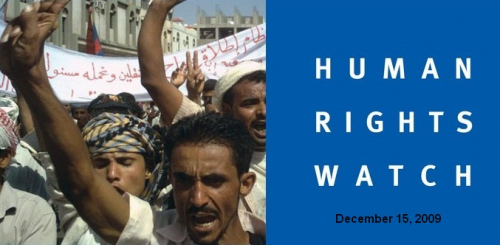 A grave human rights crisis is unfolding in southern Yemen, where government security forces have responded to calls for secession with the brutal repression of the so-called Southern Movement.
Since 2007, southern Yemenis have conducted sit-ins, marches and demonstrations to protest what they say is the northern-dominated central government's treatment of them, including dismissal from the civil and security services. The protests escalated and by 2008 many southern Yemenis were demanding secession and the restoration of an independent southern Yemeni state, which had existed up until the union of the Yemen Arab Republic and the People's Democratic Republic of Yemen in 1990.
The security forces, and Central Security in particular, have carried out widespread abuses in the south—unlawful killings, arbitrary detentions, beatings, crackdowns on freedom of assembly and speech, arrests of journalists, and others. These abuses have created a climate of fear, but have also increased bitterness and alienation among southerners, who say the north economically exploits and politically marginalizes them. The security forces have enjoyed impunity for unlawful attacks against southerners, increasing pro-secessionist sentiments in the south and plunging the country into an escalating spiral of repression, protests, and more repression.
While the government publicly claims to be willing to listen to southern grievances, its security forces have responded to protests by using lethal force against largely peaceful protestors without cause or warning, in violation of international standards on the use of lethal force. Protestors occasionally behaved violently, burning cars or throwing rocks, usually in response to police violence.
At the six protests investigated in depth by Human Rights Watch, Yemeni security forces violated almost every aspect of those standards. During an April 15 protest in Habilain, Central Security riot police without warning or provocation fired automatic weapons directly at protestors, wounding one man in the foot. During a May 21 protest in Aden security forces on several different occasions opened fire without warning or provocation, wounding 23 protestors including Nasr Hamuzaiba, a former army officer and Southern Movement activist. Protestors responded by throwing rocks at the security forces, who again responded with deadly force.
On May 30, protestors marched peacefully in Shahr, demanding the release of some 75 persons detained during a protest two days earlier. When they came to within meters of riot police blocking the road, police fired first into the air, but then at the protestors, killing 'Awwad Baram. The government held no inquiry into the fatal shooting. In al-Dhali', security forces shot and killed Tawfiq al-Ja'di during a May 31 demonstration without warning or provocation.
Security forces have made it increasingly difficult for wounded persons to obtain medical care by ordering public hospitals not to treat persons wounded at protests, stationing officers from the Political Security Organization (PSO) and other security agencies at hospitals, and even carrying out attacks inside hospitals or seizing wounded patients from their beds. Such actions gravely endanger the lives of wounded persons, many of them unlawfully shot by the security services. Two days after he had been hospitalized, security officials arrested a 15-year-old student who was shot through the ankle with a live bullet during the May 21, 2009 protests from his hospital bed. Guards at the Shu'aibi public hospital in al-Dhali' governorate refused to let protestors wounded at the July 4, 2008 protest enter the hospital, forcing them to seek out private treatment.
There have also been at least two incidents involving clashes between groups of armed men and the security forces, following which the Yemeni authorities have accused the Southern Movement of harboring an armed component. Armed clashes in the Ahmarain mountains around Habilain some 100 kilometers northeast of Aden in late April and early May 2009 left several soldiers dead and civilians wounded. In July 2009 a clash between followers of Tariq al-Fadhli and security forces in Zanjibar, the capital of Abyan province, left at least 12 persons dead in the wake of a "festival" promoting southern demands.
Furthermore, on two occasions in July, southerners attacked northern shopkeepers living in southern Yemen. In the worst such attack, three northern shopkeepers were abducted and two of them killed in Radfan district in July, 2009. Vigilante violence by supporters of a united Yemen also appears to be increasing: the central government helped establish Committees to Protect the Unity, groups of pro-unity supporters, some of them armed, who have carried out armed attacks on suspected southern activists.
While still exceptional—and contrary to the stated peaceful orientation and conduct of the bulk of the Southern Movement—these incidents underline the combustible nature of the situation and danger that violence may escalate. The armed clashes show the potential for armed conflict throughout the south, and appear to be indicative of elements that sympathize with the goals of the Southern Movement but are prepared to pursue them by violent means.
Since the onset of protests in 2007, security forces have arbitrarily detained thousands of participants or bystanders, including children. These arbitrary arrests take essentially three forms—short-term preventive detentions in order to stop would-be participants from reaching protests and to prevent protests from taking place, arrest of peaceful participants and their sometimes lengthy detention, and targeted arrests and long-term detention without trial of suspected protest leaders. Children have been among those detained. While some were released after only a few hours, Human Rights Watch has documented three cases of children under age 18 being held for days and weeks without charge, some missing school examinations as a result.
Yemeni prosecutors have only charged a few detained leaders and put them on trial. In April 2008, security forces arrested twelve leaders of the Southern Movement and detained them until President Saleh amnestied them in September. The leaders included Ahmad bin Farid, Ali al-Gharib, Yahya Ghalib al-Shu'aibi, Hasan Ba'um, and Ali Munassar, among others. They spent six months at the Political Security Organization's prison in underground cells, and were later prosecuted on vague and politicized charges of "acting against national unity," "fomenting secession," or incitement. Since then, most Southern Movement leaders have been hiding in the mountains to escape arbitrary detention and political charges.
In 2009, the authorities continued to rely on specious politicized charges against Southern Movement leaders. In April, authorities arrested Qasim al-Askar Jubran, former ambassador of the PDRY to Mauritania, charging him with "threatening national unity and inciting a fight against the authorities." Jubran was transferred to San'a's PSO prison and put on trial based on evidence of "speeches, documents, a handout titled 'Project on the Vision of Peaceful Struggle Movement for the Southern Issue & Future of South Yemen's People,' and a document of affiliation with the Supreme National Council for Liberating and Restoring State of South Yemen." He remains in detention at this writing.
The authorities have also launched a frontal attack on the independent media, suspending publications, blocking websites, arresting journalists, and even shooting up the offices of the largest independent newspaper. On May 4, 2009 the Ministry of Information suspended from publication eight daily and weekly independent newspapers over coverage they had given to events in the south. They are Al-Ayyam, Al-Masdar, Al-Watani, Al-Diyar, Al-Mustaqilla, Al-Nida, Al-Shari', and Al-Ahali papers. Also in May, the government created a new court to try journalists. On May 1 and May 2, security officials confiscated copies of Al-Ayyam, Yemen's oldest and most popular independent newspaper. On May 4, unknown assailants opened fire on the newspaper's compound and it suspended circulation. On May 12, security forces surrounded the compound and engaged in a one hour shoot-out with the newspaper's security guards that left one passer-by dead and another gravely injured.
The government imposes unwritten "red lines" in an effort to ensure that the media exercise self-censorship. These are generally understood by journalists to include a ban on publishing interviews with exiled southern politicians or Southern Movement leaders, publishing pictures of the violence committed by the security agencies against demonstrators, or even mentioning the formal names of the organizations behind the protests. Human Rights Watch documented two further arrests of journalists over their reporting on the south. Officials also attempted to prevent coverage by foreign satellite TV stations. On at least two occasions in May and July 2009, security officers prevented Al Jazeera journalists from physically leaving their hotel to stop them from filming footage at protests in southern cities. In June, unknown assailants attacked Aden's Al Jazeera correspondent Fadhl Mubarak, and in July Al Jazeera's bureau chief for Yemen, Murad Hashim, received anonymous death threats via telephone.
Yemeni authorities have arrested popular bloggers Salah al-Saqladi and Fu'ad Rashid, who remain in detention at this writing. Saudi Arabian secret police have arrested Yemenis blogging from Jeddah for websites featuring news about the Southern Movement, and secretly rendered Ali Shayif to Yemen in May or June 2009, where he remained in the detention of the PSO as of mid-November 2009. Academics are also not free to express their opinion. Security forces arrested Professor Husain 'Aqil after he wrote in the press and lectured in the classroom about economic injustices faced by the south. 'Aqil is a professor of economic geography at Aden's university, and remains in detention in San'a's PSO prison as of this writing. Human Rights Watch spoke to and detailed four other cases of harassment and detention of academics who spoke out against what they perceived as repression by the northern central government.
Despite the host of repressive measures and their wide application, calls by southerners for their reinstatement into the army and civil service, higher pensions, an end to corruption, and a fairer share of Yemen's national wealth—especially oil revenues, have continued unabated. Although so far mainly peaceful, feelings of bitterness in the south and a sense of betrayal in the north the tensions threaten to spill over into intercommunal violence.
International attention on Yemen, one of the poorest Arab states, is more focused on two other challenges—in August 2009 the five-year old episodic war with rebels from the Huthi movement in the north flared again, leading to more deaths and displacement, and 2009 also saw increased activity by the group known as al Qaeda in Yemen. The human rights crisis in the south is being largely ignored.
Yemen's central government should respect the rights to freedom of assembly, association, and expression, including by amending its laws to protect these rights. Its security forces should cease using unnecessary and disproportionate force against protesters and stop arbitrary arrests of protestors and critics and release all those arbitrarily arrested, including children. An independent commission should review all incidents in which security forces using lethal force injured or killed protestors in the south over the past three years and hold accountable those who unlawfully used such force.
Yemen's neighbors and donors should publicly criticize Yemen's human rights abuses and advocate for greater respect for human rights, in particular the rights to freedom of expression and assembly. Donors should assist Yemen in training its security personnel in non-lethal methods of crowd control and monitor the conduct of security personnel.
----------------
https://www.hrw.org/report/2009/12/15/name-unity/yemeni-governments-brutal-response-southern-movement-protests