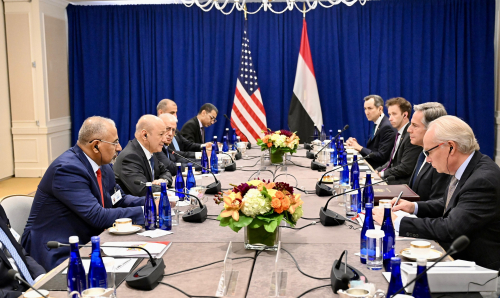 President Aidarous Qassem Al-Zubaidi, President of the Southern Transitional Council (STC) and Vice-Chairman of the Presidential Leadership Council (PLC), together with the Chairman of the PLC, Dr. Rashad Al-Alimi, met today, Monday, with US Secretary of State, Mr. Antony Blinken.
The meeting discussed efforts to end the war and bring about peace to the country, and in this regard, the Secretary of State reiterated the position of the USA in support of all ongoing endeavours aimed at ending the conflict and bringing about lasting peace to Yemen and the entire region, noting the importance of the cohesiveness of the PLC.
The meeting also reviewed recent political developments, on top of which efforts have been made to launch a comprehensive political process with the participation of all parties.
The meeting was attended by Mr. Tim Lenderking, the US Special Envoy to Yemen, and Dr. Ahmed bin Mubarak, Minister of Foreign Affairs in the power-sharing government.