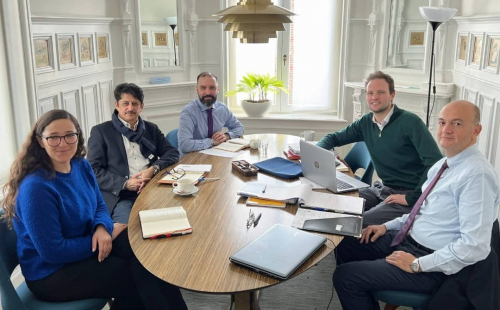 Mr. Ahmed Omar bin Farid, head of the external southern national dialogue team (ESNDT) of the Southern Transitional Council (STC), met on Thursday in the Belgian capital, Brussels, with a team from the European Institute of Peace (EIP).
The meeting with the team, which consists of Mr. Jamie Pleydell Bouverie, Programme Manager of the Middle East in the EIP, Ms. Inès Bencheikh, Middle East Programme Assistant, Mr. Thanos Petouris, Regional Advisor, and Mr. Ayman Ahmed Namiq, Senior Advisor, discussed the importance of the dialogue that is conducted by the STC with the various parties and ways to boost and support such an ongoing dialogue.
The meeting reviewed ways to strengthen cohesiveness, rapprochement, and enhance the unity of the southern ranks, as well as its impact on supporting the pillars of peace in the entire region, in addition to a range of developments in the governorates of the South in various political, economic, and service aspects, and presented fruitful suggestions that can lead to supporting and boosting such a constructive dialogue.