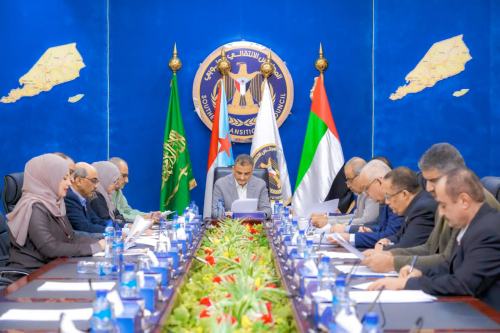 The Presidium of the Southern Transitional Council (STC) held its periodic meeting, on Tuesday, chaired by Mr. Ahmed Hamed Lamlas, the Secretary General of the Presidium of the STC, Minister of State, and Governor of the Capital, Aden.
In the meeting, which was attended by several ministers of the Power-sharing government, the Presidium stood before the continuous attempts of the terrorist Houthi militia to target the South, the latest of which was the criminal attack on the Al-Dhabbah oil port in Hadramout Governorate, as an indication of targeting the South, its economic facilities and citizens with the aim of kneeling the South, and the international community's failure and silence towards these attacks encouraged them to continue these attacks, stressing in the context that the southern armed forces, its command, and the people will never go unheeded in the face of these attacks.
The Presidium also shed light on the latest developments on the national landscape, and the fighting fronts to defend the land of the South, reiterated its demand for the power-sharing government to fulfill its duty to pay the salaries of the military and security forces that teach the Houthi militias the harshest lessons and defeats in the fields of honour and direct confrontation along the borders of the South.
In a different context, the Presidium approved the program for the celebrations of the South on the glorious national independence anniversary, November 30th, which will be held in certain downtowns of the governorates of the South, inviting all the people of the South to actively participate in these celebrations on this great southern occasion.
The Presidium then listened to a briefing by the General Directorate for Foreign Affairs (GDFA) on the latest developments related to the cause of the South, in addition to the draft of the general orientations of the STC's work plan for the year 2023.
To the end of the meeting, the Presidium discussed several topics and issues related to the STC and took appropriate measures in this regard.