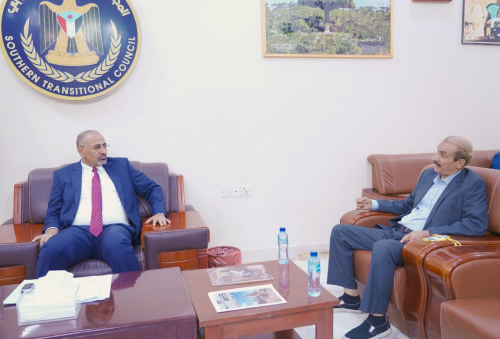 President Aidarous Qassem Al-Zubaidi, the president of the Southern Transitional Council (STC), and deputy head of the Presidential Leadership Council (PLC) in his office in the capital, Aden, on Tuesday, met with Dr. Al-Khidr Mohammed Naser Al-Ga'ari, head of the South Arabian Democratic Congregation (SADC), (known in Arabic as TAJ)
At the beginning of the meeting, the president welcomed the return of Dr. Al-Ga'ari to the homeland to take part in the southern national dialogue and to contribute to the arrangements for the upcoming stage and the entitlements that our people await in the course of their liberating revolution to restore their independent and fully sovereign state.
During the meeting, the president reiterated his keenness on southern cohesiveness, within the framework of a real partnership that accommodates one and all, based on his absolute belief that the South will only be with and for all its people.
For his part, Dr. Al-Ga'ari expressed his thanks and appreciation for President Al-Zubaidi's sincere invitation to all southern components to engage in a true southern national dialogue, praising the sincere efforts made by the President to achieve southern cohesiveness and rapprochement.
Dr. Al-Ga'ari affirmed that the SADC has been and will remain one of the most prominent supporters of those tremendous efforts aimed at establishing the state of the South, in which all the southern people, with their different affiliations and orientations, can participate in its construction.