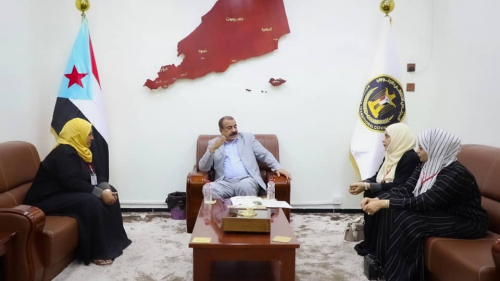 Major General Ahmed Saeed Ben Brik, Chairman of the National Assembly of the Southern Transitional Council (STC), on Wednesday, met at the headquarters of the Assembly, with Ms.Nahid Othman, head of Aden Foundation for Orphans Guardianship.
In the meeting, the chairman of the Assembly was briefed by Ms. Nahid about the activities of the Foundation and its charitable actions and humanitarian aid, which implemented by fundraising efforts to support and assist orphans, especially in light of the critical circumstances that our country is passing through it.
The meeting discussed ways to support the Foundation to be able to carry out its humanitarian aid and charitable actions towards orphans, as the Foundation has been underfinanced for years with scarce resources that did not enable it to expand its work activity.
The meeting, too, reviewed the projects of the Foundation in the aspects of dressmaking, sewing, hairdressing and other projects that aim to contribute to improving the living conditions of orphans' families.
Major General Ahmed Saeed Ben Brik praised the humanitarian aid, charitable actions and fundraising efforts made by the staff of this Foundation.
He highlighted that the STC
pays high attention to the people of the South of all various categories of the community and societal components, and pushing too hard to alleviate the situation and ease the encountered difficulties before the work of charitable foundations as per the available potentialities and means.
The meeting was attended by Ms. Sadfa Mohammed Ali, Executive Director of the Foundation and Ms. Nairouz Khaled Hussein, Director of Public Relations and Coordination at the Foundation.