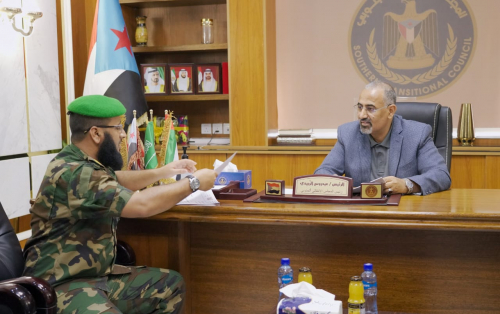 President Aidarous Qassem Al-Zubaidi, the president of the Southern Transitional Council (STC), Supreme Commander of the Southern Armed Forces, and deputy head of the Presidential Leadership Council (PLC), on Thursday, met with Captain Kamal Mutlaq Al-Halimi, commander of the intervention unit for land disputes in the capital, Aden.
President Al-Zubaidi listened from Captain Al-Halami to a brief explanation of the activities of the Intervention Unit for land troubles in the capital, the made efforts to protect private and public lands and arrest trespassers and encroachers, as well as its role in removing unlicensed construction, controlling disputes and disputants, and remitting them to the concerned authorities.
President Al-Zubaidi commended what the Unit had accomplished since its establishment by a decree of the governor of the capital, Aden Mr. Ahmed Lamlas, in implementing legal prosecutions against trespassing, and ceasing working in flow sheets not issued by the Lands, State Real Estate and Urban Planning Authority, in addition to controlling and regulating the movement of machineries working in the fields of construction and building block factories.
The president directed the command of the Unit, to redouble the efforts to continue its performance in coordination with the concerned authorities to prevent and arrest illegal brokering activities in the lands, and to stop any actions that intrude and encroach the purposes and aims of urban planing, affirming his full support for the command of the Unit and providing all kinds of assistance to properly perform the assigned tasks.
For his part, Captain Al-Halimi expressed his thanks and appreciation for the continuous keenness and interest of President Al-Zubaidi in the performance of the Intervention Unit, affirming that all the achievements of the unit in this respect would not have been fulfilled without the support provided by President Al-Zubaidi and the governor of the capital, Aden Mr. Ahmed Hamid to the command of the Unit, in easing all the difficulties encountered their workflow.