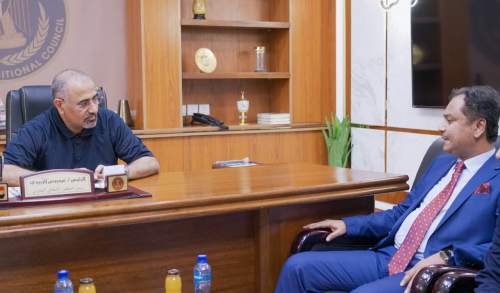 The president Aidarous Qassem Al-Zubaidi, President of the Southern Transitional Council (STC), Deputy head of the Presidential Leadership Council, on Sunday, in the STC's headquarters, in the capital Aden, met with Mr. Fadi Ba'um, Head of Political Bureau of Revolutionary Movement Council.
Initially, the president Al-Zubaidi welcomed the head of the political Bureau of the Revolutionary Movement Council, who arrived in the capital Aden from the Arab Republic of Egypt, in response to the sincere invitation by the president Al-Zubaidi to all leaders and commanders of the South to return to their southern homeland.
In the meeting, the president reiterated his invitation to all the southern leaders living abroad to return to the capital Aden to contribute and participate in the upcoming entitlements for the South, affirming his keenness on the Southern cohesiveness within a real partnership, based on the deep-rooted belief in the principle that the South will only be with and for all its people.
For his part, the leader Ba'um expressed his overwhelming happiness to return the southern homeland to participate in the construction of the aspired state; for which they have been sacrificing trains of the wounded, martyrs, and detainees, he adds; "Today, we are in our homeland, among our people, and brothers, and indeed, we will only be with our people until restoring the State of the South with its full sovereignty."
Furthermore, Mr. Ba'um offered his thanks and appreciation to the president Al-Zubaidi on his sincere calls and incessant efforts to achieve the southern cohesiveness and gather the southern diaspora, to move forward in restoring and constructing the federal independent state with its full sovereignty.
The meeting was attended by Major General Ahmed Saeed Ben Brik, chairman of the National Assembly of the STC, and Mr. Marwan al-Hamumi, Member of the Assembly.