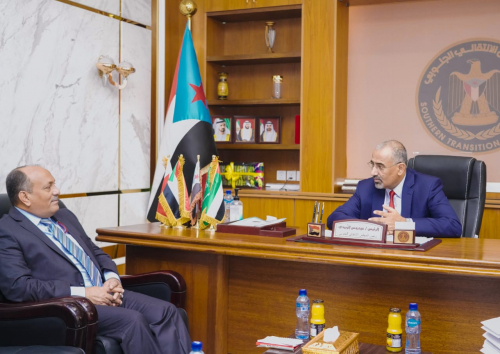 The president Aidarous Qassem Al-Zubaidi, President of the Southern Transitional Council (STC), Deputy head of the Presidential Leadership Council, on Sunday, in the STC's headquarters, in the capital Aden, met with Mr. Salem Mohammed Al-Wali, Deputy Minister of Industry and Trade in the power-sharing government.
As the president gets briefed on the efforts of the ministry to boost food security under the rapid escalating developments in the World Food Market due to the ongoing war in Ukraine.
Likewise, the president was familiarized with the outcomes of the paid visit by the team of the Ministry of Industry and Trade to the Republic of India and the negotiations with the friendly Indian side to complete the exceptional procedures approved by the esteemed Indian government, which included unbanning the export of wheat to our country and ways ensuring its implementation as soon as possible.
Similarly, the president stressed the importance of assuming the responsibility by the Ministry of Industry and Trade in supervising commodities, services, quality control, preventing exploitation, monopoly and skyrocketing prices to maintain stable-supply status to the local market, as well as its role in providing ideas and visions that could contribute to developing the economic sector, enhancing investment opportunities and creating job vacancies for thousands of the youth and graduated young people.